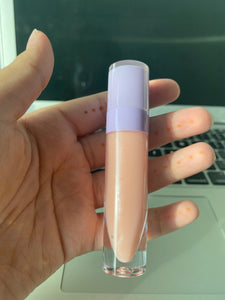 Fulfil those princess peach dreams with our Peach Princess Lip Gloss. This gloss helps you achieve that pouty peach looks flawlessly. The perfect peach tint is gorgeous and the gloss is supa-dupa smooth on the lips! This is one of the shades in our brand new NUDE COLLECTION!!
Directions

1. Using the applicator, spread a generous amount of lipgloss onto your lips. 2. Rub lips together or use the applicator tip to spread the lipgloss across the surface of your lips. 3. Repeat use multiple times a day as needed.

Ingredients

Hydrogenated Polyisobutene, Ethylene/Propylene/Styrene Copolymer, Butylene/Ethylene/Styrene Copolymer, Coconut Oil, Mica, Flavour Oil, Caprylyl Glycol, Phenoxyethanol, Hexylene Glycol, Castor Oil, Iron Oxide, Titanium Oxide.